Click on Screen for
Our Gallery Slide Show
TechKnowledgeEase is committed to building lasting customer relationships by delivering technically proficient and knowledgeable professionals coupled with an unparalleled level of customer service and high quality, state of the art equipment. We know that clients choose to align themselves with companies who compliment their individual services and capabilities. TechKnowledgeEase is that company.
When you work with TechKnowledgeEase you work with dedicated professionals who have years of hands-on technical experience. Our team brings consistent and reliable service to our clients for all their meeting or event needs. A large part of our clientele is repeat business, which allows our people to provide individualized service based on the preferences of each client. We work as members of your team throughout the entire process ensuring a successful event.
All events require thorough communication, attention to detail and technical expertise. Our team is knowledgeable in all aspects of the audio visual industry and are up to date on current industry trends. We work to find innovative, creative, technical solutions and implement them for each of our client's events. From initial planning to smooth on-site execution, TechKnowledgeEase offers its clients complete turnkey solutions for all of their meeting, event and presentation needs.

We handle events ranging in size and scope from intimate meetings to national launches and special events. We work in various venues from hotels and convention centers to off site specialty locations providing customized audio visual solutions to clients of all sizes across a variety of industries. In many cases we travel with our clients handling their events, therefore, we are familiar with locations around the country. Our skills, knowledge and experience will set your mind at ease.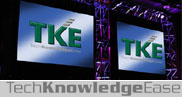 *Source: The American Heritage® Dictionary of the English Language, Fourth Edition Copyright © 2000 by Houghton Mifflin Company. Published by Houghton Mifflin Company. All rights reserved.